Empowering Museum Educators
to Evaluate
The upcoming Journal of Museum Education (JME) focuses on evaluation and features case studies from the Shedd Aquarium, Science Museum of Minnesota, and many others. Don't miss out on this practical resource that can help shape the approach at your institution.
Renew your membership or join today to receive this issue in your mailbox in late February!
DF
The Journal of Museum Education Turns 40!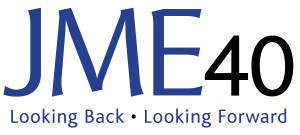 To celebrate the publication of the 40th volume of the JME, the Museum Education Roundtable is starting a year-long blog initiative that explores the evolution of the Journal during its 40 volume run as a reflection of the field at large—and how that past informs next possibilities for the field of museum education.
Read the introductory post from MER President, Beth Maloney, and bookmark http://museumeducation.info/jme40 for updates all year long!