Distance Learning and Museums
The Summer 2015 issue of the Journal of Museum Education (JME) is hitting mailboxes now! Learn more about this issue of the JME, and download a free Reader Guide.
Celebrating 40 Years of the JME
The JME40 blogging project is an initiative of the Museum Education Roundtable to commemorate the publication of the 40th volume of the Journal of Museum Education. Visit the JME40 blog for new articles exploring the evolution of the Journal during its 40 volume run as a reflection of the field at large—and how that past informs next possibilities for the field of museum education.

Message from the President
Read MER Board President Beth Maloney's reflections from AAM, as well as exciting news for the future of MER and the Journal of Museum Education (JME).
Evaluation in our Practice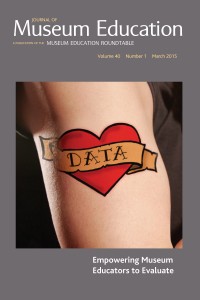 The recent EdCom Virtual Book Club via Google Hangouts discussed the current Journal of Museum Education, "Empowering Museum Educators to Evaluate." Panelists included Lynn Dierking, Associate Dean for Research in the College of Education and Sea Grant Professor in Free-Choice STEM Learning at Oregon State University, and JME Guest Editors Joy Kubarek, Vice President of Learning at the Shedd Aquarium, and Laureen Trainer, an independent evaluator.
If you missed it, catch up by watching on YouTube, and and reading the Storify transcript.