Journal of Museum Education Editor-in-Chief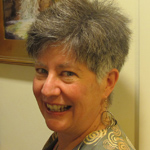 Cynthia Robinson spent 25 years working in museums before becoming the Director of Museum Studies at Tufts University. She has extensive experience in developing museum programs, curricula and exhibitions, as well as in museum management and administration. She directed a professional museum organization for 10 years, held management positions at three museums, and served on the Museum Education Roundtable's board and the council of the American Association of State and Local History. Cynthia works on a range of museum issues, including training the next generation of leaders, helping history museums become more relevant to modern audiences, and improving interpretation strategies to reach broader and more diverse audiences. Her publications include "Into the Future: Adult Professional Groups and the 21st Century Museum," Journal of Museum Education 36.1 (Spring 2011), Going Public: Community Program and Project Ideas for Historical Organizations (1999, co-authored with Gretchen Sorin), and "A Priority on Process: The Indianapolis Children's Museum and 'Mysteries in History,'" In Ideas and Images: Developing Interpretive History Exhibits (1992, co-authored with Warren Leon). Exhibitions include Where in the World Does Boston Come From?, which traced how Boston took shape over time; The Boston Massacre, a sound-and-light exhibition; and The Price of Freedom: Anthony Burns and the Fugitive Slave Act, a traveling exhibition installed at the Moakley Federal Courthouse and Suffolk University. Cynthia also coordinated the development of Why Concord?, an exhibition that traced one town's role in shaping American history, and wrote the interpretive text for an entire new nature museum in Missouri. Curricula include Lexington in 1775, an eight-lesson unit used in Lexington's third-grade classrooms; Enterprising Women: 250 Years of American Business Teacher's Guide (for grades 3 – 6), and Abolition in Lynn, an award winning curriculum unit for 11th and 12th graders.
Cynthia can be contacted at: cynthia.robinson(at)tufts.edu.