_____________________________________________________________________________

Contact us at [email protected] with questions, comments, or ideas.
_____________________________________________________________________________
Looking Back, Continuing Forward
Elisabeth Nevins & Susan Spero, Ph.D.
Last December, while Santa was in the North Pole making his list and checking it twice, we were busy tinkering with a project of our own. 2015 would mark the publication of the 40th volume of the Journal of Museum Education (JME). It was an anniversary worth marking—but how?
We initially considered guest editing a celebratory issue of the JME, but our timing was off and the journal format (ironically) didn't seem quite appropriate. Members of the Museum Education Roundtable (MER) board had batted around the idea of a blog in the past, but without an obvious focus the idea never took hold. Until last December.
The blog format seemed like an ideal way to explore, as we wrote in our guiding statement, "the evolution of the Journal during its 40 volume run as a reflection of the field at large—and how that past informs next possibilities for the field of museum education." It was flexible in terms of schedules and subject matter, allowed us to include a range of voices, and represented a relatively low-risk means to experiment with a new way to share content with the field.
And so, it is December once again. Santa's up north with his lists and elves and we find ourselves at the end of our year-long experiment. Looking back, we both agree, and the MER board concurs, that it was a valuable and worthwhile investment of time.
What did we learn from the JME40 experiment?
The blog provided us with a timely venue for responding to current events. In our original timeline, Elisabeth's interview with Ken Yellis was scheduled for the April post. But after attending AAM she felt compelled to reflect on what she heard and learned concerning the work of museums in tackling social injustice. And we still had a place for Ken's wise words on the importance of writing in our September post.
Celebrating 40 years of publication history provided a great reason to dive into our history and experience, again, how the JME has been a publication that allows professionals to consider issues and ideas that underlie everyday efforts. Our forays into past journal issues reveal the continuity of topics like leadership, school standards, and new technologies.
As we looked over our written past, we noticed how museum education work has shifted over time. And, to be real, we also became frustrated that many of our problems seem to still be with us. As a field we have certainly professionalized in the past 40 years—the journal itself has changed significantly in process and product—but there are those recurrent difficulties where we haven't yet found solutions. One takeaway from this experiment is that some aspects of the field's struggles seem to be structural, suggesting that each generation will need to find their own fresh ideas and tools to tackle our ongoing problems.
Foremost, it is because of this currency with a blogging format that we will continue with this experiment next year. Joining us is MER board and editorial team member Lexie Carlson who, during her day job, is Program Manager for the Teacher Institute at the Exploratorium in San Francisco, California. In the Teacher Institute, Lexie spends much of her time project managing grants, thinking about integration of the Next Generation Science Standards, and wrangling educators and scientists.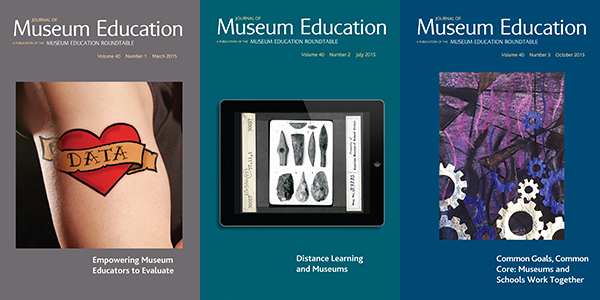 Our posts ahead will look backward and forward, and respond to what arises. We will continue to expand upon the ideas from the peer-reviewed JME since the journal process, by necessity, results from a longer publishing arc. We will remain as JME40 as MER continues to publish the 40th volume of the journal.
Diving into the JME past is now easier than ever, as the full JME archive is available digitally courtesy of Routledge/T&F, our publishing partner. Access to this rich resource is one of many benefits of MER membership. We welcome submissions from those interested in writing for this blog especially in response to a current volume of the JME. Please contact us at [email protected] with questions, comments, or ideas.
Wishing you happy holidays.
_____________________________________________________________________________
Elisabeth Nevins is the principal of Seed Education Consulting in Boston, working with museums and historic sites to create engaging and relevant learning experiences for visitors. She serves on the board of the Museum Education Roundtable and as a reviewer and cover photo editor for the Journal of Museum Education. She tweets as @seededucation.
Susan Spero, Ph.D. teaches Museum Studies at the John F. Kennedy University in Berkeley, CA and serves on the Board of the Museum Education Roundtable.
Opening photo credit: "Snowflake macro: twelve months" by Alexey Kljatov, via Flickr.