The Journal of Museum Education was featured prominently throughout the annual New England Museum Association Conference held November 13 – 15 in Newport, Rhode Island. Several sessions showcased how the Journal's content is shaping critical conversations about the issues that define the future of our field.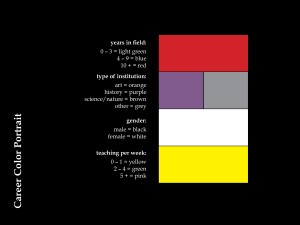 Museum Education Roundtable Board Member, Elisabeth Nevins, used Natasha S. Reid's article in the July 2013 issue of the JME ("Carving A Strong Identity: Investigating the Life Histories of Museum Educators") as a springboard for the Education Professional Affinity Group's annual luncheon. The participants created career color portraits based on the prompts featured in the adjacent photo, before discussing key elements of practice ranging from formative experiences that led to careers in Museum Education – to frustrations
encountered on the job – and how individuals feed and nurture their passion for the profession. Ultimately, the session provided a different a approach to the typical vision of reflective practice, which centers primarily on teaching. "The idea was to shift the focus to reflect on our career paths," Nevins said, "Where we've been, where we're going, what is good or bad, and if there seem to be any patterns or universals that are worth noting and acting on in some way." A key takeaway from the session was that the time is right for Museum Educators to assert ourselves.
There was a general consensus that as museums have very publicly embraced their public mission, shared authority, audience-centric focus, the current climate presents a moment where we can advance our goals in the public value of what we do—from making our institutions more open, inclusive, and engaging to having a stronger more powerful voice as a field within the museum world.
The theme of shared authority was also picked up in a session led by JME Editor Cynthia Robertson during a panel discussion, which also featured Elizabeth Duclos-Orsello. Duclos Orsello guest edited vol 38.2, Shared Authority: Museum Education as Social Change, and was joined by several of the authors who contributed to this publication. Their discussion drew from a publication focused on key themes and questions such as:
How can authority be shared? How can we organize our work with other How can we organize our work with other organizations or groups to leverage resources/align missions and resources so as to identify and develop meaningful collaborations?
How do museums alter (or adapt) institutional culture/norms to pursue and sustain social change initiatives? How do social service organizations or other community partners do the same to engage with museums?
What constitutes a social concern? A social issue? Does it have to relate to the most likely/local audience? What if a museum takes up a topic/social issues that impacts people/communities many, many miles away — is this educational initiative effective?
In a session titled "Littlest Learners and Museum Moms: Enriching Education for Pre-walkers, Preschoolers and their Caregivers," MER Board Member Brooke DiGiovanni Evans connected the Early Childhood Learning Journal to a panel discussion that explored how museums can engage our youngest visitors and their caregivers. This important theme relates to conversations throughout our discipline about the role that we can play in closing the achievement gap by promoting kindergarten readiness. The presentation underscored the importance of training staff to best serve the unique needs of guests ages 4 and under, equipping museum guards to be comfortable around this audience, engendering buy-in at all levels of your museum, and embodying a willingness to be adaptive and flexible during programming.
Truly, the NEMA conference celebrated how reading the Journal of Museum Education positions museum professionals on the forefront of dialogue in the sector. Maintaining a membership to the Museum Education Roundtable should be on the top of any engaged practitioner or department's list of ways to advance innovative thinking and awareness trends in the field. Renew your subscription today!